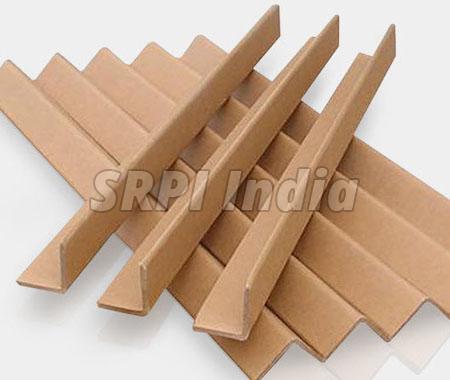 Also known by different names like angle edge board, corrugated angle board, end protector edge board, and self-adhesive edge board, Angle board is a secondary packaging product that is made of wood, plastic or hardened paper. It is used to reinforce the corners of stacked pallets to avert the product damage during transit. Packagers often find it difficult to stack pallets and arrange them properly to ensure safe shipments. So, as a solution to this problem, the angle edge board protector can be used to simplify and secure the product packaging process. This board comprises two legs that form a 90-degree angle with each other. Continue reading to know more about the benefits of paper angle board edge corner protector.
Reasons to Use Angle Board
Security: While carrying the stack, it might get misbalanced and top row can also get damaged easily. Using angle board for packaging can help you prevent damage in and out transit. Angle board keeps the stack in line and guards its edges.
Branding: The use of an angle board is not limited to avert in-transit losses. Nowadays, printed angle boards are available that can be used to fulfill branding requirements.
Strength: The major reason behind the imbalance of the stack's alignment is the poor strength of the packaging material. So, to enhance the stacking strength of palletized goods, using an angle board is a wise choice.
Shockproofing: The corners of a stack are prone to damage and scratches. To avoid this loss, angle board will be a great tool for sure as it has properties of a shock repellent and absorbs corner damage.
Sizing Angle Board for Perfect Packaging
Angle board is available in different leg lengths but how would you select the right size? It is based on how much protection your pallet load will need. The longer the leg size, the greater the protection it offers. As the leg size increases, products are packed more tightly, which makes them less prone to shifting & twisting from their way during transit. Leg length plays a crucial role while stacking.
Following are the reasons that advocate its importance:
If the leg size is too short, the top row of the pallet is exposed to corner displacement or damage.
If the leg size is too long, the angle board will prevent pallets from stacking on top of each other.
Paper angle board protective corners serve multiple packaging functions. Their availability in special surface variants including moisture resistant and abrasion-resistant coatings makes them high in demand across different industries in India and abroad. One can search online and find traders offering Brown Paper Angle Board or Corrugated Paper Corner Board in standard and tailored specifications around Dharuhera, Bawal, Ambala, Gurgaon, Haryana, Manesar, and Sonipat.
This entry was posted on September, 10, 2020 at 15 : 47 pm and is filed under Paper Angle Board. You can follow any responses to this entry through the RSS 2.0 feed. You can leave a response from your own site.