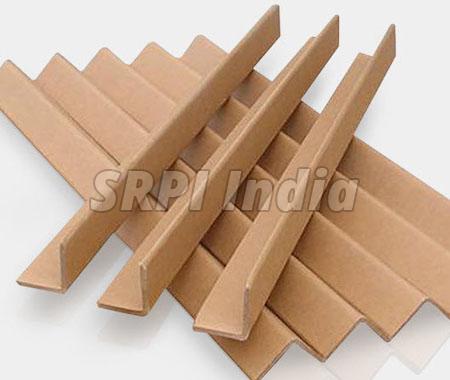 Protective packaging is used in numerous industries nowadays such as automotive, home appliances, electronics, furniture, pharmaceuticals, food & beverages etc. Protective packaging means the application of special tailor-made packaging materials in order to protect the product from damages during the shipping and storage process. The first and foremost objective in packaging is to protect packaged goods from external factors until it reaches the ultimate customer safely. Packaging protects the products against hard knocks during transpiration. There is a wide range of such packaging material in the market. One such is a paper angle board edge corner which is made from several layers of recycled paperboard that are laminated with eco-friendly glue to form a rigid right angle.

Paper Angle Board Edge Corner is an innovative solution to protect shipments both in and out of transit. It works perfectly if sized correctly in order to safeguard packaging of the product as well as the product itself. Using a large board results in unnecessary wastage while a too small board cannot provide the promised level of protection. Therefore, it is quintessential to go for an accurate size as per your packaged products to reduce overall cost and waste. Furthermore, it not only protects the corners of packaged products, but also increases structural strength to the pallet for stacking purposes. This paper-angle board edge corner protector not only acts as a shield but also serves as a marketing tool as the name of the brand, logo of the enterprise can be printed over it easily.

Attributes of Paper Angle Board Edge Corner are

Environmentally friendly

Extremely light weight

Customisable in different sizes & thickness

Easy to install

Highly durable

100% recyclable

Competitive price

Ensures adequate safety

Increased corner protection & stacking strength

Unitization

Due to the amazing uses, features and benefits, this board is high on demand in every industry. There are many dealers of paper angle board edge corner protector in Manesar and choosing the reliable one is highly crucial in order to get the best quality product.

Some of the important aspects to be considered while choosing the manufacturers and dealers of paper angle board edge corner protector are as follows-


They should have collaboration with trusted vendors of top quality raw material in order to manufacture highly durable products.

They should adopt the use of the latest technology and machines to ensure product efficiency.

They have a great distribution network and excellent logistics team to deliver the products within the prescribed time.

They should offer the facility of easy customisation to ensure adequate protection.

They should meet the international quality standards.

They should have sufficient capacity meet bulk as well urgent orders of the customers.

They should offer these protective materials at highly competitive rates prevailing in the market.

Conclusion
It can be strongly stated that the paper angle board edge corner protector is highly acclaimed across the globe for safeguarding the edges and corners of the packaging containers in the most effective and economical manner.
This entry was posted on October, 28, 2021 at 10 : 23 am and is filed under Paper Protector. You can follow any responses to this entry through the RSS 2.0 feed. You can leave a response from your own site.