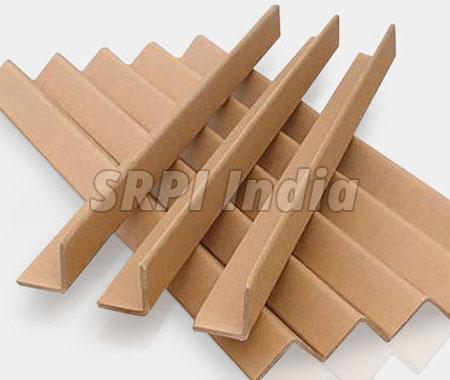 The paper angle board, popularly known as the corner board or the edge protectors are amazing secondary packaging product which is usually made up of paper. There are various types of angles boards available in the market made up of materials like wood, plastic, and hard
paper.
The angle board consists of two legs which are folded sharply at an angle of 90 degrees. The angle board helps in reinforcing the corners of the pallets and boxes. This helps in providing extra strength, stabilizes the edges and provides complete protection.
Varied Uses of Paper Angle Boards
If you are using these angle boards, it helps in stacking the pallets without any separate risk of getting the underneath pallets present crushed. The angle boards help in reducing the risks caused due to the stacking of product especially saving the corners during transit. Due to the use of solid pallet frame, the packages get a higher chance for higher strapping and wrapping tension. Due to the increase in the strength of the packages, it helps in preventing the risk of pallet tips and collapses while the process of storage and shipping is done.
What Does The Corner Protector Do Exactly?
The use of this paper angle board edge corner protector helps in providing integrity to the case. It has the ability for displacing the weight evenly, away from the cases. In short, the angle boards provide a stiff shape to the case to avoid compression. It is because compression on the case makes it look very unattractive and also damages the fragile products inside it. Often, the compression makes the product unsaleable.
Moreover, the angle boards own the ability to create a reinforced master carton. These cartons are known as master carton because they contain good quality angle board for segmenting and reinforcing the box for packing smaller boxes inside it. It helps in reducing the risk of deflation or compaction during stacking on the pallet. Moreover, it also increases the strength of the boxes.
Reasons To Use These Paper Angle Board Corner Protector
The Paper Angle Board Edge Corner Protector in Baddi is used widely because of a number of reasons:
· It helps in securing the loads and preventing all types of damages during the in and out transit process.
· It increases the opportunities for branding through the idea of using printed paper angle board for protection of the edges.
· It enhances the strength of stacking palletized goods.
· It prevents the risk of getting scratches ok the surface of the case as well as the product.
· It has the capacity to repelling and absorbing the damages caused at the corner of these container cases.
· It wraps the load safely keeping the fragile products inside safe from all types of containment.
The Paper Angle Board Edge Corner Protector in Baddi is an amazing solution for packing the containers. It increases the strength and durability of the container cases. It helps in avoiding the risk of damages during displacement of the cartons.