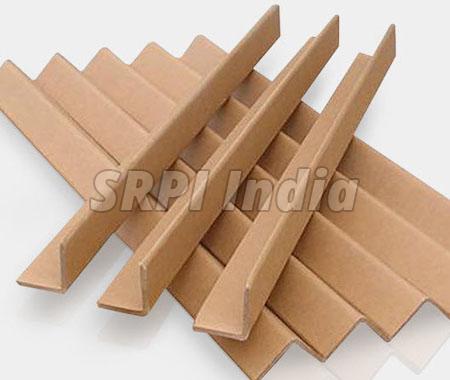 Also known by different names like end protector edge board, self-adhesive edge board, corrugated angle board etc., an angle board is a secondary packaging product. It is made up of plastic, wood or hardened paper. These boards are made up of legs that are congruent and form a 90° angle. These paper angle board edge corner protectors in Chopanki reinforce corners of stacked pallets and add strength & durability. Apart from this, they protect all corners of stacked pallets and eliminate the risk of crushing. Continue reading and know more about different uses of paper angle board edge corner protector in Alwar.
Why Angle Boards Are Used?
This is a common question that buyers put up. Let us answer it. The use of angle board reduces the risk of damage to all items stacked on the corners of a loaded pallet. More solid the pallet frame, higher the stretch and wrap tension. Due to this increased strength, the items in the pallet remain safe even when they collapse accidentally during the shipping. Not only this, but angle boards distribute the weight evenly and reduce the risk of compression. Many dealers use paper angle board edge corner protector in Rajasthan for protecting the products as damaged items are unsalable.
Angle Board as Master Carton
A major use of the paper angle board edge corner protector in Giloth is the ability to create a reinforced master carton. It uses the angle board that is further packed with smaller boxes. Due to this internal support, the risk of compression and bending is eliminated. Furthermore, one can stack more items on the pallet easily.
Sizing Angle Boards For Perfect Packaging
For the best packaging solutions, people turn to paper angle board edge corner protector in Bhiwadi due to their different features. However, one has to be sure while determining the size. For the same, you should have an idea of how much protection you want to provide to all products. It can be determined by the leg length.
There are two key reasons that advocate why it is essential:
A. If the length of the leg is short, there are higher chances of displacement and damage. This is possible because pallets remain exposed to the highest risk of shifting and compressing.
B. If the leg length is too long, they can make the pallet heavy and require additional labor for transporting. Moreover, stacking items over each other will become a hassle as well. Thus, it turns out to be a major benefit for all dealers engaged in providing the paper angle board edge corner protector in Solanala.
Final Words
Angle board protective corners serve multiple packaging functions. Different industries all over India and overseas use these boards for providing strength to pallets and protect products from being compressed. They are also available in a special surface variant that includes moisture resistant and abrasion-resistant coatings. For purchasing the paper angle board edge corner protector in Neemrana, approach the nearest manufacturer today.