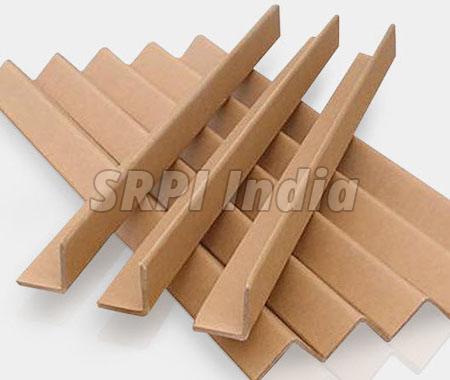 Every product requires completely safe and proper protection during transportation, handling, and storage. Paper angle board edge corner protector is the solution to look into. Actually, angle board is made of multiple layers of recycled paper plastic-coated together and formed into a firm right angle to make the best cardboard corner edge protectors available in the market. These protect against the hassle and abrasion of belts and restraints.
Usability of these corner protectors
Paper angle board edge corners protector serves a variety of packaging functions comprising
• Edge and pallet guarding,
• Unitization,
• Load stability,
• Beam strength, and
• Stacking strength.
One of the best benefits of using paper board edge protector is its recyclability. Being made of 100% recyclable products they are recognized anywhere in the World without any chemical handling and constraints.
1. Reduce product damage: As the boar is made strong enough to handle any pressure so it assures a damage free delivery.
2. Achieve higher strap tension: Give a perfectly flawless strap tension to secure the holding.
3. Have more secure loads: It gives surety of loading heavy products also as these can be made as per the given dimensions.
4. Utilize branding opportunities: The simple plain boxes give you a good opportunity of branding your company name.
5. Ideal for applications requiring internal support: If you need to pack something delicate, these edge corner protectors give internal support also.
6. Enhance the stacking strength of palletized goods: This is a perfect option to pack and load palletized goods which is also a way to have low-risk product damage.
7. Prevent surface scratches: No scratches come on the packed products.
8. Repel and absorb corner damage: Being made with highly firm material, it repels and absorbs corner damage.
9. Corner board protectors' excellent replacement for wood packaging: Earlier wooden boxes used to be a source of loading and moving. These give a viable option.
10. Can be sized to fit any size load or container
Customization offered by many manufacturers of paper angle board edge corner protector in Bawal assures you get any size according to the requirement.
Specifications offered by leading manufacturers in Bawal
The leading manufacturers make available special surface finishes. This includes
• Moisture-resistant and
• Abrasion-resistant coatings
One and two-color printing is available for
• Branding,
• Product identification and
• Instructional purposes
Contact only such suppliers and manufacturers who are ready with the following facilities
• Affordably priced products
• Easy customization
• Certified company
• Use superior quality materials
• Meet international standards of quality